Southern Surgical Care is an expert staffed, local based surgical practice focused on the needs of the Rockingham and Mandurah communities. Our goal is to facilitate quality and compassionate surgical services locally, minimising the need for travel to Perth. We are committed to consulting with patients close to home and, where safe, to complete their treatment here also.
Looking after your surgical problems
Dr Chris Couch and Dr Leigh Archer work full time in the Mandurah and Rockingham communities. The combine years of experience with their specialty training to look after many patient concerns. Where our skillset isn't the best for a patient's issue, we will work with the patient to link them in with the specialist who has what they need. Where possible, this will also be in the Mandurah and Rockingham regions, often consulting from our rooms.
Minimally Invasive Surgery
Our surgeons can offer a broad range of technical options to treat your conditions, including minimally invasive, endoscopic or traditional open procedures. These skills have been developed through decades of practice and subspecialty training supported by a continuous pursuit for excellence. The practice has grown over the years to now include multiple surgeons, a bariatric physician and allied health members.
The practice was founded by Dr Christopher Couch, who has worked within the community for decades. Through partnership we are committed to continuing his fine work. Local GP's are included in all aspects of our care and we are always happy to be contacted with any concerns or discussions. We are also willing to share our specialist knowledge for any educational sessions.
Dr Leigh Archer has completed a national fellowship in Upper GI (+ Bariatrics) Surgery along with General Surgery training. Having grown up in the country himself, he is pleased to offer his skills to the people of Mandurah and Rockingham. He always takes the time to understand where a patient is coming from and is proud of his proven success in the treatment of reflux disease and obesity.
A special interest in bariatric surgery
Management of obesity is facilitated through Perth Obesity Surgery. This is the same group, working under a slightly different practice name. We give the best care with help of a team, which includes health experts from multiple disciplines to support every patient to achieve their goals. Most of the attention is on factors other than surgery! Our service includes a bariatric physician, dietitian and psychologist, all focused on enhancing your long term success.
Your wellbeing is our priority.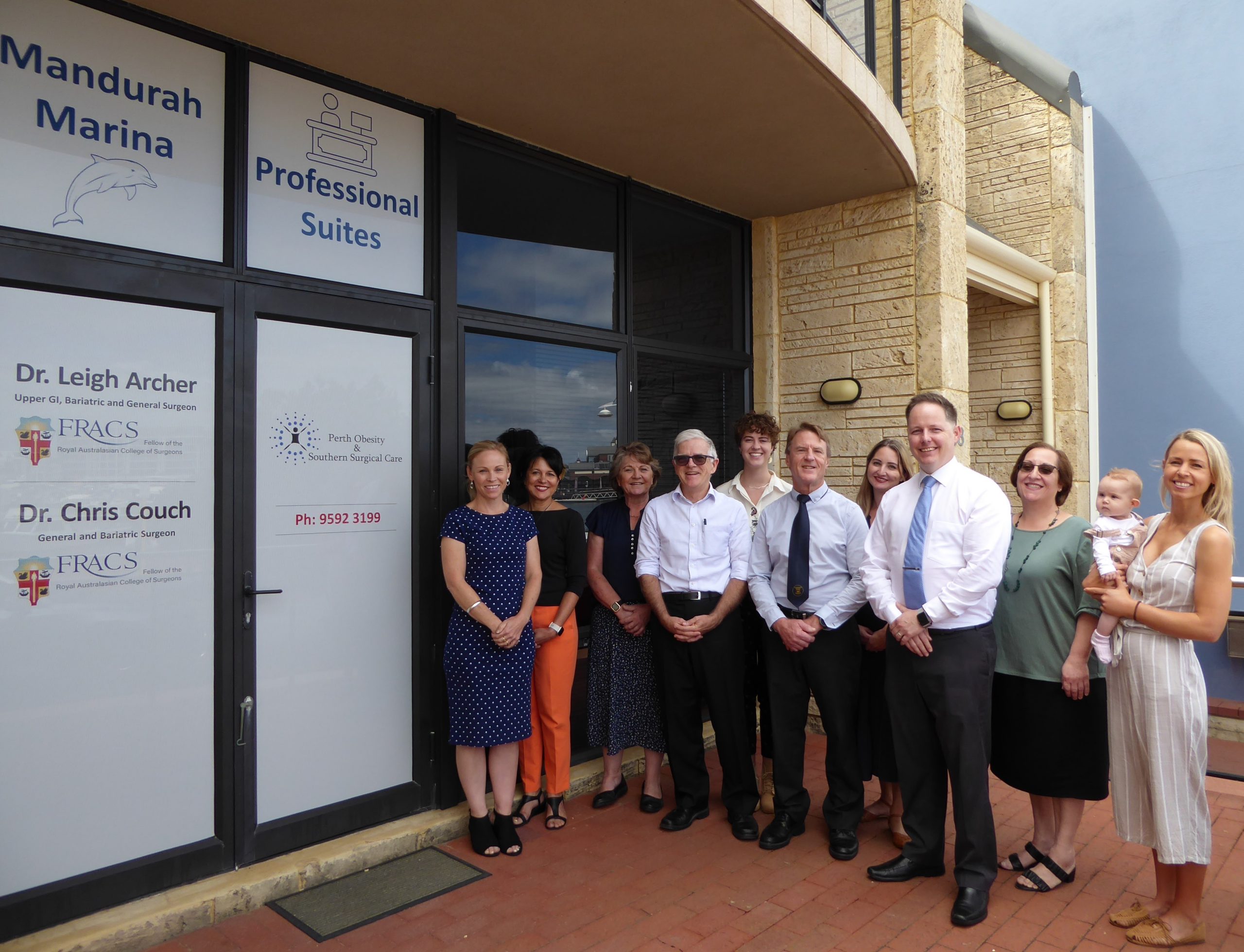 Our friendly team are here to help.
Locations for consultation.
Dr Chris Couch and Dr Leigh Archer, both consult from Mandurah and Rockingham. Where surgery is indicated, it is usually through Peel Health Campus or Waikiki Private Hospital, though there are occasions where care is best given in SJOG Murdoch or Hollywood Private Hospital
Understanding and support
We understand that considering surgery can be challenging for many reasons. At Southern Surgical Care, we will explain every step of the way at your pace. We  make sure you are fully informed and comfortable with the decision. A consultation is not an obligation and so we welcome discussions about options and plans without expectations.
You should never be uncertain of what is going to happen. You will be given comprehensive information sheets along with an explanation o f what to expect before and after surgery. You should always feel free to call if you are not confident in this.
We are sympathetic towards the impact of costs from surgical services. Charges are always disclosed upfront. Please inform us if cost impacts on your ability to access the care you need.